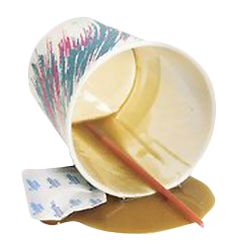 Don't worry — it's not Joie de Vivre! But, it is a beloved product we've been selling for years. The story goes like this: one day I saw a picture of a
fake coffee cup "spill"
in
New York Magazine.
It looked very funny and it gave the address of the party store on the upper East Side of Manhattan where you could buy them. I called them, and wound up talking to Jeremy Sage, the man who made them. In a funny conversation, I found out that he grew up in Cambridge, just blocks from Joie de Vivre. And that he had played Jesus, in
Jesus Christ Superstar,
for several years on Broadway. And a few other things including yes, he would be willing to sell us some of his spills. We were his first customer, though within a year after the article was published, he was exhibiting his work at the New York Gift Show. So, yesterday — ten or fifteen years later — I faxed him an order, and later found a note stuck to my computer saying "call Jeremy — he has some news." I called. "I'm retiring," he told me. "In a couple of days." When I expressed shock and surprise, he said, "well, it was a spur of the moment decision." He said that a lot of his accounts have closed . . . and he's bored . . . and he doesn't really need the money. I tripled my order for ice-cream and coffee spills, but that's it. We do buy similar things from another company who jumped on the bandwagon after Jeremy's spills made such a splash, but — they are not quite as good. And they don't make the ice-cream cup spills. And you can't choose your coffee cups. Or personalize things. His was truly a small and accommodating business, and we are very sad to see him go!